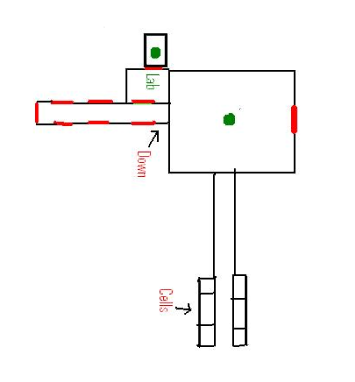 Area A: Longhouse
exits: (S, down) - Area B
Area B: Prison Cell Brig (20 feet by 20 feet, 8 cells, torchlit)
exits: (N, down) - Area C
Area C: Northern Passageway (rough hewn, 15 minutes to walk)
exits: (N) - Area D
Area D: Antechamber (30 feet in diameter, beast statue in center / candles)
exits: (E, up) - Area E?
exits: (W, down) - Area F?
Area F: Long greathall, 3 doors to the north (1,2, and 3) and 3 doors to the south (4,5,6). 1 set of double doors at the end (door 7)
+Door1: (eastmost, north): TO AREA G
+Door2: (middle, north)
+Door3: (westmost, north)
+Door4: (eastmost, south)
+Door5: (middle, south)
+Door6: (westmost, south)
+Door7: Western double doors.
Area G: Lesale's alchemical lab (Exits: Door1 and a heavy steel door to the north, leading to area G2)
Area G2: Cold Cellar (large, fat statue - 8x8 room, no exits)
/////